I'm usually behind the curve when it comes to keeping up with these sorts of things, especially since I've never used Live Journal and don't keep up with all the community chatter, but
Rachel's Lost Recaps
are one of the funniest Lost related things I've seen online and
her blog
is simply a cornucopia of hilarious Lost-related goodness from LJ fans. For example: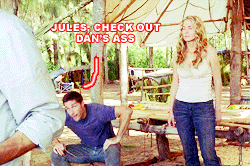 Awesome (thanks to
prettybutt
)! She also had a link to the silly, yet always giggle-inducing
Jackface
link too. I stumbled across that page before during my thesis coma, but forgot to link it. Anyway, check it all out, but be sure you allot some significant time. I still have to go back and read all the recaps (make sure you read
The Constant
though).
And a big old Tip O' The Hat to
Hannah
, who steered me in Rachel's direction. Happy Lost day, everyone! =)