Lost is baaaaaaaaaaaaaaaaack! Is everyone as happy as I was last night?
What terrific season opener. The flash forwards were simply a stroke of genius. I actually found myself tonight looking forward to Hurley's off-island activities more than the actual on-island stuff. Wasn't it nice not to have a Jack-centric opener too? I know they really couldn't have had one since Jack closed out Season 3, but after realizing it was a Hurley episode I was positively giddy.
And kudos to Jorge Garcia for a terrific acting job. In fact, y'all should head over and
compliment him yourself
.
Five Questions/Points from last night
:
1. Who's eye is this?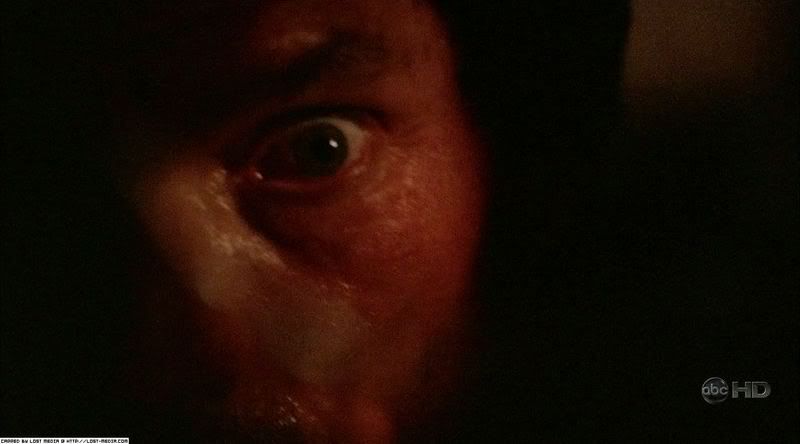 Most people seem to think it was this man:
Which would make sense since he showed up right after Hurley had his Jacob cabin Halloween freak out. But after looking at the screen cap I'm not so sure. It that Locke's eye, tinted dark by the night? Or was someone else in Jacob's cabin with:
2. Christian Shepherd?
Um, dude? WTF? Now in the light of Christian appearing in Monday's
mindboggling good mobisode
, one has to wonder who's responsible for all the visions on the island? I always thought it was the smoke monster impersonating everyone. But could it be Jacob instead? Or are Jacob and Smokey one and the same?
I don't think Christian Shepherd is actually Jacob - remember that Ben saw his mother on the island too. But I do think, along with the mobisode, that this suggests that Jack is at least as important to the island as Locke, if not more.
3. THEY NEED YOU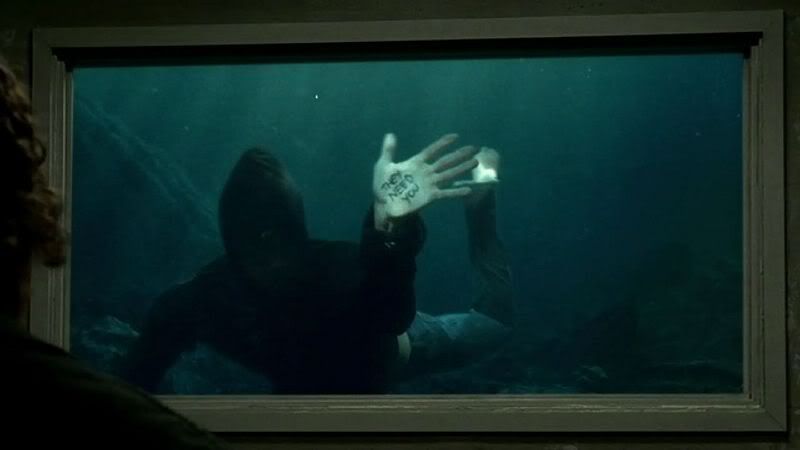 Written on Charlie's hand. Kudos to Dominic for a great cameo too. So how far does the island's influence reach? It seems like "it," assuming "it" is the island, is going to great lengths to get them all back if it can send a dead rock star thousands of miles to send a message. I'm kind of digging Charlie now that he's dead too. :)
4. Matthew Abaddon
You just don't trust someone named after the "
Angel of the the Abyss
."
Hurley may be crazy, but he showed some great insight (for him) in calling him out. This brings up two big questions: What does everyone who got off the island have to keep secret and who's trying to find it out? Is the good Matthew from the same group that landed on the island? Did Locke and the others successfully repel them? Very cool (in a dark, intriguing way) how Jack was simply worried about whether Hurley gave up info rather than seeing Hurley himself.
5. Who are the rest of the Oceanic 6?
Jack, Kate, Hurley. Plus, Desmond did have a vision of Claire leaving the island. If that comes true, it makes four. Jin and Sun certainly have the most incentive to leave , however I think it would probably make for a more dramatic storyline if they didn't make it. Therefore my last two guesses are Sayid and Desmond, both of whom have long-lost loves they really want to return to (remember we know
Nadia is living in LA
now).
BTW, this is a spoiler free blog. If you know, please don't spill the beans.
Other Random Thoughts

1. I loved how we saw a pre-oxycontin Jack adding alcohol to his morning OJ. He's slowly becoming his father.
2. Also interesting how Hurley couldn't even talk about Ana-Lucia's on-island activities to her partner. Does the vow of silence encompass all island happenings, even ones that are dead?
3. Raise your hand if you thought Smokey (or the island) took Naomi's body at first. I did.
4. Ben was delightfully snarky this episode. Can't wait to have him and Locke go at it (or are they allies now) in the Barracks.
5. So does Kate leave Sawyer behind on the island? And what happens to their (likely) child? Could the "he" Kate was referring to in the Season Finale be their son? I haven't looked forward to a Kate-centric episode since the beginning of Season 2; now I'm positively dying for one.
Overall
: Incredible opener. Better than last season, for sure. 4.5/5