"Well then, this is your chance to redeem yourself..."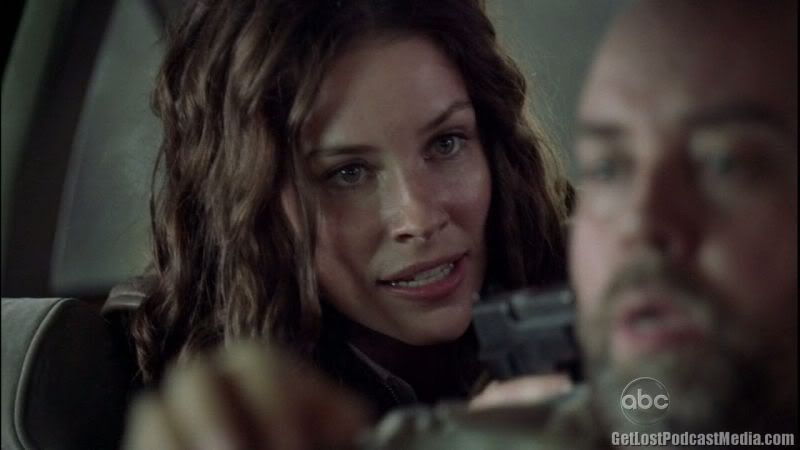 (Thanks to
Dark UFO
for the screencap).
Pretty decent Kate episode, though the bar there is set pretty low. I actually found myself digging the alt timeline stuff and *gulp* even the Kate-Sawyer stuff didn't bother me this episode. It also helped that Evangeline looked fabulous this episode, best she's looked on the show in quite some time. Maybe it has something to do with
her shilling for L'Oréal
now.
The pacing here was a bit slow and I do think the episode suffered a bit from a lack of Zombie Locke and Ben. No Desmond appearances this episode either. Boo.
Five Questions
:
1) So I guess "The Sickness" is real, eh?
As I stated last week, for the longest time I really thought The Sickness was a hoax. Not only did the
Lost Puzzle Clues
say so, but also 1) None of the Losties got sick during their stay on the beach and 2) the whole episode with Desmond and Kelvin in the Hatch seemed like the Sickness was merely an elaborate ploy by DHARMA to keep the Hatch dwellers from leaving and allowing the button to go unattended.
On the other hand, Danielle's guy who survived Smokey's attack certainly seemed "claimed" when she shot him down, much like Dogan described to Jack. It's certainly possible that both things are true - DHARMA used the rumor of the Sickness to keep everyone contained and made a fake
vaccine
for it to boot (the stuff Desmond shot himself up with), but never encountered anyone who was "claimed" before.
2) So what's claimed Sayid?
*Em and Missie both raise their hands*
Ahem. Seriously it must be something related to Smokey, if not Smokey himself. Is this really the start of the Zombie Season? o_O
3) Okay, if it is Smokey, can he only claim unburied dead bodies?
The Others started freaking out about Sayid
after
he had mysteriously come back to life (yeah, I'd freak out too). But does the Sickness only infect dead bodies? And, more specifically, do they have to be unburied to infect them? Claire likely died somewhere in the jungle after the explosion at the Barracks. And remember that Christian's body was unburied when the coffin crashed on the Island too. Boone, Shannon, Charlie, Eko, Ana-Lucia, Libby and Nikki & Paolo were all buried and we haven't seen them walking around the Island ala Christian.
But if Smokey is the one claiming them, can Smokey only assume the forms of unburied bodies? He's appeared as Christian and Yemi to be sure (both unburied, Yemi's body was burned and later disappeared). He's also appeared as Alex, whose body I believe was left at the Barracks in the aftermath of the attack (Ben said goodbye, but I don't think he buried her).
I wonder if this has anything to do with
the theory
that Smokey really is one of the Egyptian Gods of the
underworld
. Of course, since we now know that the Nemesis = Smokey, Smokey's got to be a more important god to rival Jacob. If Jacob is
Horus, Osiris, or Ra
then Smokey is
Anubis, Set, or Apep
. Regardless, I think this is definitely worth keeping in mind.
4) So what does Jacob bring people to the Island for?
Redemption, most likely. Giving everyone a
blank slate
, a chance to start over. Interesting Dogan said he was brought to the Island by Jacob too.
Jacob believes people are inherently good, Smokey believes people are inherently evil. The Island seems to be a testing ground for these theories. I do wonder what the rules between Jacob and Smokey are though?
Let's say that unburied bodies on the Island go to Smokey, period. What about Smokey judging them? Do unrepentant people get killed by Smokey, rather than claimed (like Eko)? Does Smokey have to give them a chance to repent before he kills them? That doesn't seem really likely, given how Ben used Smokey as a weapon against Keamy and crew. But it certainly does seem that now that Jacob is dead, Smokey can do whatever the heck he wants. Really looking forward to catching up with Zombie Locke and Ben next episode.
5) Why are the time travelers so important to the Others now?
Dogan panicked when Jack tried to swallow the poison pill and seemed really desperate to get Sawyer back. We know they're all special because Jacob touched them in the past, but what exactly can they do to set things right on the Island? Doesn't seem like they have the power to stand up to Smokey, though boneheaded Jack would still probably try and take Smokey on by himself. Seems like a mismatch to me, but I suppose Jacob must have a plan, right?
Tidbits
- Several past episode parallels this time around. Ethan giving Claire the ultrasound had shades of "
Maternity Leave
" and Sawyer threw an engagement ring into the water just like Desmond did in "
Flashes Before Your Eyes
"
- I guess Claire wasn't being adopted by Jack's family after all. Anyone catch her name or the name of the street she lives on? Sounded to me like Langdon St. and Mrs. Baskin. Hard to catch with Claire's accent.
- I really thought Josh Holloway's acting was terrific this episode.
- I'm really digging Jack getting his ass kicked every show this season. And it seems to be working too - seemed a bit more like normal Jack this episode. And for once he was actually right about something too (the pill being poison)!
- Funny seeing Dogan spinning a baseball. Not as funny when you realize
a baseball has 108 stitches
.
- "Hugo has assumed the leadership position. Pretty sweet." Lawl
- Kate clocked Aldo with a gun when they rescued Karl from
Room 23
back in "
Not in Portland
"
- Sayid after being tortured: "They didn't ask me any questions," ala Han Solo in Empire Strikes Back
Summary
:
Pretty good Kate episode, probably the best since the first season, though that's not saying much. But I really enjoyed the alt timeline and the Island stuff moved things right along. Greatly looking forward to next week.
3.5/5