"The record is spinning again... and we're not on the song we want to be on."

This may just be my favorite episode ever. Top three, at least.
Tonight's episode not only answered a plethora of remaining Island mysteries, it actually hit home at one of the core mysteries of the show:
Why the heck were all our favorite characters on Flight 815 and were they destined to be on that plane?
Yes. Yes, they were. Kind of.
They were "destined" to be on the plane because if they weren't it would create a
temporal paradox
. They were all part of DHARMA in the past. If they don't get on Flight 815, they don't end up in the past and history changes. If Sawyer's not there to save Amy, Amy dies. If Juliet's not there to deliver Amy's child, the child dies. One of my comic book posts that I've been meaning to write for the past year illustrates this perfectly and since there's a hiatus next week (boo!) I'll post that story instead.
It also gives the reason Jacob had
lists
for Flight 815. He knew that certain people had to survive to go back in time. And the reason it was so desperately important that Desmond had to end up on the Island was not for him to press the button, but rather for him
not
to press it at one single, precise instant - so that Flight 815 would crash. I'll talk about the lists a bit more later on.
It wasn't a coincidence all our important Losties were on the plane; they were there (and certain people knew they'd be there) because all this cool stuff that they did in the past on our favorite mysterious Island
had yet to happen for them
. And if they don't get on that plane, they don't go into the past. And if they don't go into the past, time and space would be torn apart, end of everyone. This is very different from the way time works in, say, "
Back to the Future
," largely because in BttF you can change history, something that it has been stated over and over again that you can't do on LOST.
And Daniel knows this well. He says to the Sawyer and the others that it doesn't matter what they do in the past now. Why? Because time is fixed. He now knows that in the past, he tried to convince Charlotte not to return to the Island by warning her that she would die if she does, much like, ahem, Marty does to Doc. In BttF, this works. Doc wears a bulletproof vest on the fateful night and survives. In LOST, however, Daniel becomes a self-fulfilling prophecy. His warnings to Charlotte not only don't work, but instead make her even more curious about the Island, increasing her desire to return.
Locke is also a self-fulfilling prophecy. He's important because he appeared in the past and told Richard he was his leader, something strengthened by Sawyer's conversation with him. Thus Richard spends years waiting for Locke to return, convinced that Locke will be the great leader the Others have been dreaming of under Ben.
Whatever they do in the past is "meant" to happen because they've done it already. This way, the writers have managed to merge the science and faith themes on the show because you can take it both ways; Locke sees this all as his destiny; Jack would see it as logical, because it's already happened. In other words, fate with a "scientific" explaination, assuming that time travel is possible in science, ala the flux capacitor (or mysterious Island energies).
That make sense? Excellent.
Now we know. And knowing is half the battle. Awesome.
So many mind-blowing questions this week. Gotta keep it to five.
1) Where in time are Locke, Sun, Ben and Frank?
First off, not a core Lost question, but a minor one that will probably be answered in two (augh!) weeks. The preview suggests Sayid ended up in the past as well. But the Hydra Station Locke and Caesar were in looked old - looked like it was in their actual time (present day 2007). And I think the reason you saw a weird flash before the plane crashed is because the O6 went back in time (and disappeared), but everyone else did not.
This suggests that:
1) The woman Frank took off with was
not
Sun, but rather someone else because presumably Sun ended up in the past with the rest of them.
2) Locke's destiny really isn't in the Island's past, but its present (although he certainly had an important influence on the Others, Richard in particular). The scene with Sawyer and Richard was simply awesome.
3) Ben is so screwed. :)
2) What do the O6 do in the past?
We now know that Sawyer becomes head of DHARMA security with Miles and Jin as his underlings. And Juliet welds DHARMA vans. How awesome is that?
We also know Daniel becomes instrumental in building the Orchid Station. But what do the rest of the O6 do in the past? Does Hurley end up causing
The Incident
? Does Jack become their chief surgeon of melodramatics? Does Kate tearfully run away again after splitting up Sawliet? ;)
We are presently in 1977. According to the
Blast Door Map
:
"Caduceus station believed to have been abandoned due to AH/MDG incident of 1985"
If the Incident was really in 1985, our Losties have at least
eight years
of DHARMA/Others Island drama before the Purge (which was well post-incident as I talk about below). That's a lot of Island history they can influence.
But of course that's assuming they even stay on the Island. Now that they're back in their "proper" time, they can leave, head out into the real world and do whatever. Somewhere out there in 1977 is a young Jack. A young Sawyer. A young version of everyone who crashed on Flight 815. And now their adult versions can go out into the real world and interact with themselves.
And perhaps they have memories of this, much the way Charlotte had of Daniel. Perhaps their older selves played key roles in the lives of their younger selves, paving the way for them all to end up on Flight 815, their temporal destiny. So many plot possibilities here.
And, ahem, now there's a very good possibility that
Adam and Eve
are one of our time traveling couples: Jin & Sun or two of Jack, Kate, Juliet and Sawyer.
3) So if all our favorite characters end up joining DHARMA, do they get killed off in the Purge?
As far as I can remember (and perhaps someone can correct me on this), but no one of our favorite Losties has knowledge of the
Purge
, unless Daniel somehow time traveled separately to a post-Purge time. Juliet might, as an Other, but I wonder if Ben or Richard ever told her the truth about what they did? If so, you would have to think they'd all try and leave the Island before it happens.
But also you have to think that if the O6 was with DHARMA for an extended period of time and Horace Goodspeed suddenly brought a young Benjamin Linus to the Island that someone would have thrown up red flags. This makes me think that all our favorite Losties left the Island well before Ben gassed everyone. Remember too that the Purge presumably took place on December 19, 1992, Ben's birthday. If they were still on the Island at that point, they'd all be 15 years older. Long time to spend there.
The other possibility is that some of them joined the Others. Sawyer and Richard certainly reached an understanding and perhaps an opening for them to eventually join. I'm not ready to give up my theory that
Amelia
is Amelia Earhart just yet, but what if Amelia is really Juliet, 27 years older? That would be so cool.
4) So what's "The Truce" and what happened in DHARMA prehistory?
It looks like we are about to get a heavy dose of DHARMA history directly through our favorite Losties' eyes. But if it's 1977 in their present day, then DHARMA's already been on the Island for a decade or so (and maybe more).
How did the Truce come about and what happened when DHARMA first came to the Island? I'm hoping we're going to get a bit of this through flashbacks of some of the DHARMA personnel. How about a Horace flashback? Or maybe a
Pierre Chang
? Please? Pretty please?
5) So were the Lists really anti-Lists of a sort?
So let's say Jacob knew everyone that had traveled into the Island's past and he knew that certain people had certain things to do in the Island's past. However, we know from
Patchy
that many of our important time travelers weren't on the lists at all:
In "

Par Avion

", Mikhail talks to Sayid, Locke, Kate, and Rousseau about why each of them was not on the list. He explains, "You're not on the list because (looks at Kate) you are flawed... (looks at Locke) because you are angry... (turns to Sayid) and weak, and frightened." His account on Locke should probably not be taken seriously, since he is a direct threat to Ben's leadership among the Others. Ben could have erased Locke from the list because of this threat.
Furthermore,
Danny Pickett
once remarked that "[Jack] wasn't even on Jacob's list." So what gives here?
What if the Lists were a red herring of sorts? Jacob knew he couldn't interfere with any of the time travelers because they had a future to fulfill (in the past), so instead he created lists of "good people" for the Others to kidnap instead. This served two purposes:
1) It got some of the crash survivors safely out of harm's way.
2) It distracted the Others from doing anything to the time travelers.
On other words, it basically made the Others leave the time travelers alone with the excuse that they were "bad people." Probably also served to bolster their ranks as well. Now, of course, Ben defied Jacob on this. He stalked Locke in the Swan and really tried to get him to kill himself (for the first time) by tricking him into not pressing the button. He kidnapped Walt and "tested" him, then followed it up by kidnapping Sawyer, Kate and Jack as well. Was Ben trying to change history by doing this, or was he merely defying Jacob like a petulant child? Regardless, I think the lists were basically made around the fact that Jacob (and Richard) pretty much knew the names of everyone that had traveled back in time.
And as an aside, I think this probably also explains how the Others had such detailed files on all of our favorites, eh? :)
Tidbits
:
* So do you still hate Sawyer, Matt? ;)
* Paul wore a clay ankh around his neck. The ankh means "life" in heiroglyphs. Why is that important. Well...
* Take a gander at the statue. Whatever the thing is (a minotaur, perhaps?), he or she is holding an ankh in each hand (
biggie pic
). As always, thanks to
Dark UFO
for the pics.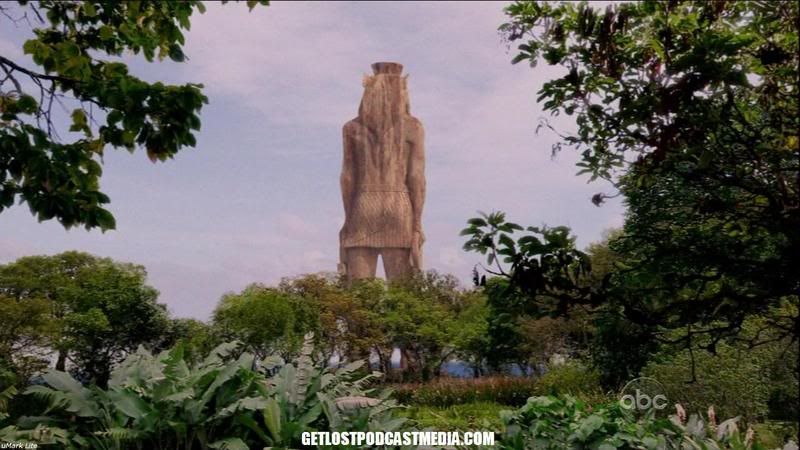 * So simple earplugs block the sonic fence? Too easy.
Summary
:
Answered long standing questions? Check.
Had time traveling goodness? Check.
Had DHARMA goodness? Check.
Was a perfect
5/5
for the second straight week? Checkmate.
This was also the best Sawyer episode since "The Long Con" as well.
Comic book posting next week. Lots of LOST musings interspersed randomly as well. :)